We're so passionate about Gin that we recently launched our new HYDE IRISH GIN...
A beautifully hand-crafted small batch of pot still Irish Gin distilled using 8 iconic botanicals; juniper berries, hawthorn berries, elderberries, rosehip berries, grapefruit peel, lemon zest, grains of paradise and angelica root.
Using a pot distilling method instead of traditional basket infusion we've achieved smooth but rich with a full depth of flavours Irish Gin.
The signature Hyde Gin blend opens up with delicious notes of berries followed up by a burst of fresh citrus and finishes with subtle wooden tones and a hint of spice.
Make sure to pop in to try our new Hyde Irish Gin, now available on our menu.
Browse our collection of over 500 Gins...
Our 'Hyde Gin Bible' contains Ireland's most remarkable physical collection of Gin. Building the Hyde Collections was a huge task, which took over a year to curate and assemble and is continiously growing. We hope that you are able to try things here that you would otherwise not find; and that you will enjoy our treasures as much as we have enjoyed collecting them and sharing them with you.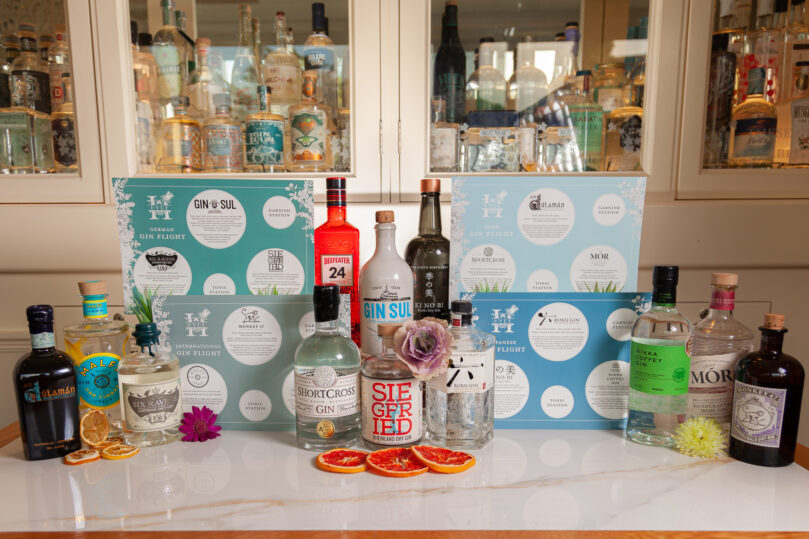 Sit Back, Relax & Enjoy the Flight!
Pick your destination of choice; International, German, Japanese or Irish and sample 3 premium gins from that region. Served with accompanying tonic and garnish, to add your own personal twist. The perfect way to start your evening.
Irish or International: €15 per person
German or Japanese: €16.50 per person
Booking in advance is essential & subject to availability. 
Please call us on 091 564111 or click the button below
Low & No Alcohol
Drinks & Cocktails
Eat, Drink & Be Not so Merry...
In a response to our customers, we are delighted to offer a range of low and non-alcoholic drinks and cocktails at Hyde Bar & Gin Parlour.
Our favourites include Garden Club with Seedlip Garden 108, raspberry cordial, lemon & whites or Seedlip Grove (Non-Alco G&T) served with an orange twist & Fever Tree Indian tonic.
To book please contact us on 091 564111 or [email protected]